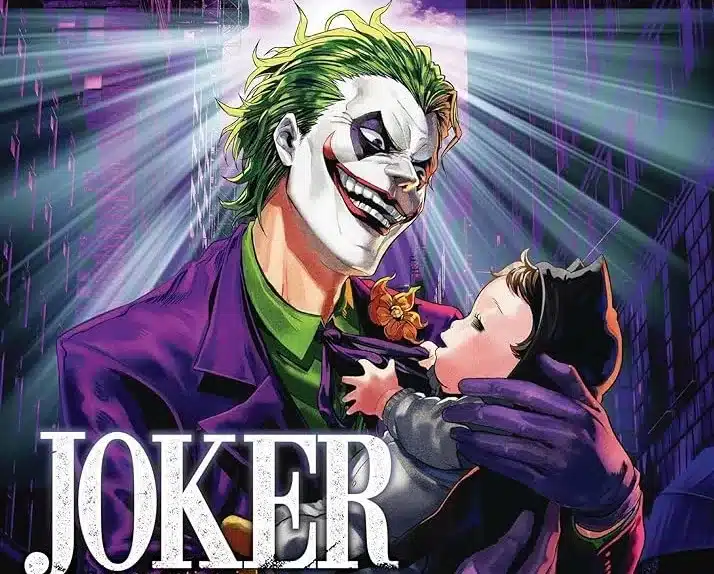 Can you imagine the Joker raising Batman? The idea is so stupid, it can even be funny. Let's find out in One Operation Joker, ECC manga where this madness is real.
DC wanted to enter the manga world with one of its main characters, the Joker, Batman's greatest villain. But he wanted to do it with a very surprising proposal, putting the crime lord in an unprecedented situation: fatherhood. One Operation Joker, written by Satoshi Miyagawa and drawn by Kisuke Gotoh, thanks to ECC Editions.
Traditional comic publishers have long struggled to expand and reach new audiences. Whether it's rebooting characters or creating new, youthful versions of classic superheroes. Another option is to jump into the manga market, which has seen its audience grow exponentially over the years, displacing superhero comics from Marvel or DC. This is the reason why popular North American publishers wanted to enter the world of Japanese comics, allowing them to explore their characters like never before.
Is the Joker creating Batman?
During his final confrontation with the narcissist, the Dark Knight was accidentally transformed into a child. Joker realizes that there is no one who represents justice anymore because he wants the Dark Knight to kill him to show the weakness of justice. The best thing in madness (or genius) is that he decides to raise that child himself to fulfill his dreams and make sure he grows up and becomes a bat-man with a great sense of justice.
Of course, the idea is very silly and has a lot of potential to be a very interesting and dark comedy, but it is not. Miyagawa's script is very weak, because although he has original ideas such as the villain trying to enroll in kindergarten or going through the difficulties of being a new father, the execution of those ideas is poor in many aspects. Even so, it's surprising to see little Bruce trying to act like such a villain so he can grow up unscathed to become Batman. It's kind of funny because we all know he made Bruce Wayne wear a bat.
Keisuke Gotoh's painting produces a much better work than his counterpart. The design of characters such as the main character and Harley has been successfully transferred to the manga style, which will delight fans of this type of comics. It is a work where there is not much action and everything is focused on the main characters, so the design and their facial expressions are very careful.
The quality of the picture is very good, but despite the excellent prints, more work is missing on the back of the vignettes. Gotoh takes the opportunity to pay homage to popular films featuring the Clown Prince of Crime, such as Joaquin Phoenix or The Dark Knight, in which the villain is played by Heath Ledger. Of course, there's also respect for the villain's and nemesis's comedic jokes.
An Operation Joker edition by ECC Ediciones.
ECC brought us a nice edition of this comic. This soft cover manga with dust jacket, made up of 144 good quality pages. This first volume compiles the first seven issues of the collection, which are well divided and also include funny vignettes in the sections. Measuring 12.8 x 18 cm, the volume is very comfortable to read, as the separation between the pages is large enough to read smoothly and clearly see the drip pages.
An Operation Joker was born from an idea that had a lot of potential, but was ironically not reflected in the manga. The script, even with the best intentions, ends up devolving into somewhat implausible situations knowing what you're reading. Even so, the picture is very good in the design of the characters, but it is not very impressive. The ECC edition of this first compilation volume is excellent. Let's hope the story of Joker raising Batman evolves into the intended story, a dark comedy.
An operation Joker
Author: Satoshi Miyagawa Keisuke Gotoh
Publisher: ECC Editions
Format: Softcover with dust jacket
Dimensions: 12.8 x 18 cm
Pages: 144 black and white
ISBN: 978-84-19920-39-3
Price: 9,95 €
Synopsis: An endless battle rages between Gotham City's symbol of justice, Batman, and his eternal arch-nemesis, the Joker… until one day, Batman is accidentally transformed into a child!
The Joker, who must always break the law to prove his evil, is forced to raise the child and become a future superhero who defends justice!
A wicked comedy about raising a baby, from the official DC Comics imprint.