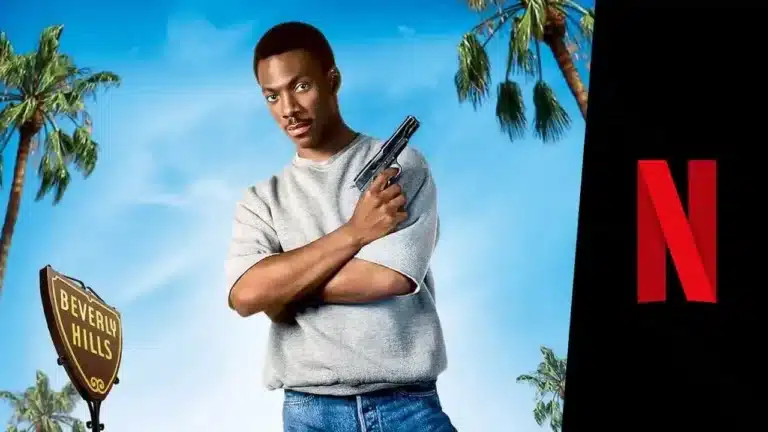 Eddie Murphy returns as Axel Foley and is ready for action in his new adventure in Beverly Hills.
It's been almost three decades since Eddie Murphy delighted us as Axel Foley in The Hollywood Detective. Now, in an exclusive announcement from Netflix, we've got our first look at Hollywood Super Detective 4, the fourth chapter in this epic saga. What has changed since we saw Foley in Beverly Hills in 1994? According to the first official image published by Empire, it looks like no time has passed for this charismatic character.
A throwback to the 80s with a modern touch
Legendary producer Jerry Bruckheimer returns for this new installment and promises us Eddie Murphy at his best. "It's amazing to be set with Murphy every day," Bruckheimer said, evoking '80s nostalgia. The cast has been revamped with the return of stars like Judge Reinhold, Paul Reiser and Bronson Pinochet, along with new talent like Taylor Page, playing Axel's daughter, and Kevin Bacon as an LAPD special officer.
More than a police officer, an icon of comedy and action
Murphy is not only an actor, but a symbol of the times. His portrayal of Axel Foley marked a milestone in action-comedy films, combining charisma and humor with a compelling plot. This unique blend became the hallmark of the Super Detective series in Hollywood. In Hollywood Detective 4, we hope to see the same magic as Foley takes on new challenges and adapts to 21st century Beverly Hills. Murphy's presence ensures a unique experience, mixing the nostalgia of fans with the hope of a new generation.
The evolution of cinema since the 90s is interesting, but characters like Foley show that certain elements are timeless. His return is not just a nostalgia trip, but a testament to Murphy's lasting impact on the industry. Hollywood Detective 4 promises to be a celebration of this legacy, showing how a classic character can evolve and remain relevant in modern culture. The film not only entertains but also celebrates Hollywood's most iconic characters.
An action hero with heart and humor
In this fourth episode, Murphy recreates Foley's elusive spirit, a cultural icon who transcends the barriers of his time. Beyond the chases and shootouts, Foley represents an action hero who balances mischievous humor with seriousness, a combination rarely replicated with such success. This new class promises to preserve that identity while adapting to modern sensibilities without losing the original charm that millions have come to love.
Axel Foley's influence on popular culture is undeniable. With the new film in this saga, Murphy is expected to not only relive the memories of the past decade but also offer a fresh perspective. The film has the challenge of connecting with modern audiences while maintaining the uniqueness that made Foley such a memorable character. A touch of action, comedy and nostalgia is a winning formula as Murphy's hands deliver top notch entertainment.
It's not just laughter, it's enjoyment.
Murphy himself admits that playing Foley after so many years will be a challenge, but promises to mix humor, action and, most of all, heartbreak. In the year The film, which will debut on Netflix in 2024, will not only rekindle nostalgia but also provide a complete cinematic experience.