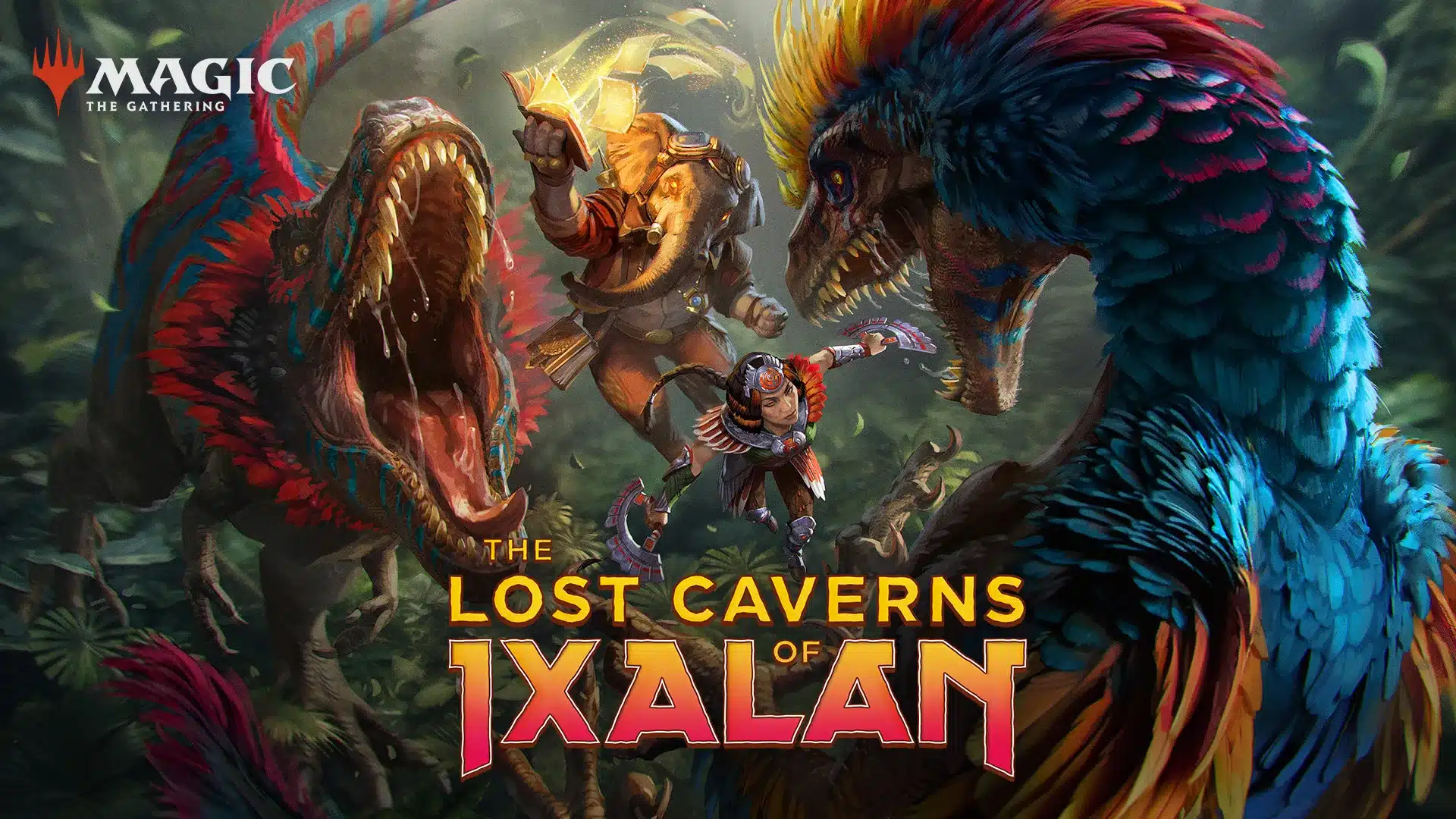 The Lost Caves of Ixalan has finally made its way to Magic: The Gathering and will be playing launch events in various cities this weekend starting November 10th. After testing the version at an MTG Arena event, we've come up with a short guide for those who aren't familiar with this new version.
Presentation events for Magic: The Lost Caves of Ixalan Collection will be held from today until November 16, 2023 at various stores participating in the game. After yesterday's November 9th event on a variety of exclusive channels in the MTG Arena, it's time to try physical cards. Thanks to MTG Arena, we were able to make some conclusions to prepare a brief guide to preparing the presentation. We have only got a few ideas, because until it is sold, we cannot draw conclusions from the power of the cards. Obviously, it is very general, because it all depends on what is unlocked in the boosters that come in the presentation pack, but there are some examples of cards, if you come out, you should try to play them.
First, open all the envelopes in the presentation pack by color to determine the number of cards of each color that we can count on. After that find the most powerful cards or the best combinations to play. It's not a card we often look for as we have to make sure we have the necessary support to play it. Fortunately, there are plenty of factions and settings to guide you through this version. Review the mana curve and costs of colors where we have many cards. More color doesn't always mean better quality. If you have dinosaurs, remember that they are the most powerful creatures in print, but not the only ones. The mana curve with dinosaurs is always very high so you shouldn't be blinded by their power. The advice in the presentation is to always have a lot of low costs and a few high costs that don't provide strong action. Vampires are one of the strongest factions in the publication, with a number of creatures that can tip the balance to victory. If you can build the hood in two colors, it is highly recommended. More than 2 colors that give double mana are dangerous without a land. Now, if you can't build a competitive deck due to opening with two colors of mail, you can keep a third color of support, but look for a mana curve that makes you less dependent on that third color to advance in the game. There are several cards that can be considered MVPs for a presentation, these are some cards that should be considered when building cards, as well as some examples of revealed cards, and if you have them and you can use them. Don't hesitate to include them:
Last, but not least, and really the most important, is to have a good time. Physically, it is not the same as the real one, and even if you have tried the cards in the MTG Arena, we must not forget that these events are primarily entertainment events to have first contact with the printed cards. Respect your opponent, enjoy hunting these new cards that Wizards of the Coast brings us in the new Magic: The Gathering Edition.
The Lost Caves of Ixalan edition takes place on November 17th. This weekend, the events will be played in a packed format.